Since the first generation iPhones hit the US market in 2007, this cell phone has seen its popularity skyrocket over the years – with reports suggesting that there are over 113 million iPhone users in the United States.
iPhones are tagged the "crème de la crème" of the cell phone market. With top-notch security add-ons to boot, it's no surprise that this device "trumps" the competition by a mile.
But what happens when you misplace your iPhone? Apple has thought of this and made provision for software that'll grant you access to your device's GPS location in real-time. Thus, making concerted efforts to retrieve the device is hassle-free.
Regardless, another query beckons – what do you do if you'd like to track someone else's iPhone? At this juncture, the list narrows. Nonetheless, don't fret, as iPhone tracker applications exist to help with this endeavor.
Using these apps, you can accurately monitor your kid or spouse's iPhone from your home's convenience. The best part? Direct installation isn't needed, as you can use a target device's iCloud credentials or mobile number to get the ball rolling.
With many alternatives on the Internet, we dug deep to uncover the best 5 mediums available for stealthy and efficient GPS location tracking.
Interested in knowing how to track an iPhone by phone number without them knowing? Let's dive in!
Read Also: 10 Best Phone Tracker Apps Without Permission
#1 North App: Locate an iPhone By Number in 2 Minutes
It's typical to see alternatives online claiming to aid you in sifting out an iPhone's GPS location speedily. However, to avoid long wait times and the possibility of that medium disappointing you in the long run, consider North App.
North App embraces state-of-the-art technology to give you access to a device's GPS location in real-time. You can use this platform without installing any application on the target's iPhone device. All you need to facilitate seamless tracking is the target's phone number.
As you seek to learn how to see someone's location on an iPhone device, one area you might want to consider is stealth. Thankfully, North App operates in full Stealth Mode.
What does this mean? North App will get you access to a target's location without them ever knowing. Think of this service as one that gives you the camo to conduct location tracking activities undetected.
Are you worried about the service's compatibility? If so, it'll please you to note that the North App works on any iOS-powered phone (iPhones inclusive). Also, you can use this service to track mobile numbers on every network carrier worldwide seamlessly.
Using this "phone tracker by number" service, seeing if your ward or spouse is where they claim to be 24/7 is achievable.
Pricing
Most people feel that mobile trackers are pricey. Albeit true in some cases, North App is a service geared to fit the tracking needs of everyone, regardless of finances.
Here are the subscriptions available on North App:
24-hour Trial: $0.89
1 Month: $49.80 per month
Pros
Works in 100% Stealth Mode
It doesn't require proprietary app installation
Decent subscription plans
It gives users access to the precise GPS location of other iPhones
Compatible with all iPhone devices and network carriers
It has a ton of stellar reviews from patrons
Cons
No Free Trial plan is available
DID YOU KNOW: According to a report, over 460,000 kids are reported missing in the US yearly. If you don't want your kid to become a figure in this statistic, it'll be great to invest in an iPhone tracking app like North App to stay in sync with their GPS location all day long.
How to Track an iPhone By Phone Number Without Them Knowing?
North App piqued your interest in precisely tracking an iPhone with a phone number. Now, you're interested in learning how to monitor someone's iPhone via this option.
Guess what? You mustn't watch 30-minute long videos on YouTube to use the North App.
To get started, follow these simple steps:
Step 1. Select a Subscription and Enter the Target's Phone Number
Thankfully, "iPhone tracker by phone number" services like North App have decent plans in place. After you've created a profile, key into a subscription. As a newbie, you can test the waters with the 24-hour trial plan (it goes for $0.89).
Afterward, head to the site and input the target's phone at the appropriate area.
Step 2. Create a Message and Send
This step is probably the most important. Although you can create any block of text and forward it to the target, you must form a catchy message that'll prompt them to click on that message immediately after they receive it.
After you've drafted this message, tap the "Send" icon.
Step 3. Locate the Target's GPS Location
Once the recipient receives the message, and they click on it to reveal its contents, North App will forward their real-time GPS location to you immediately.
With North App, locating someone via phone number isn't rocket science anymore!
#2 eyeZy: See Someone's Location on iPhone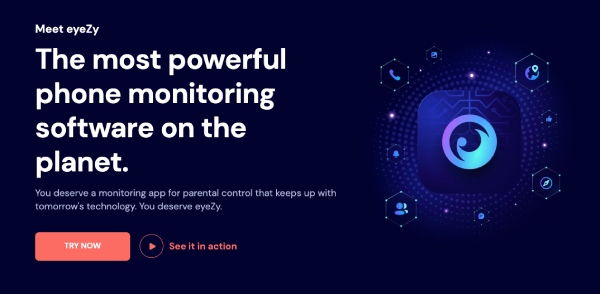 The next medium on our list of top-tier iPhone tracking applications is eyeZy. eyeZy makes a statement with a vast array of add-ons that scream futuristic in all areas. To grant clients access to their target's GPS location data, eyeZy employs a stellar feature called "Pinpoint."
eyeZy's Pinpoint gets you in sync with the locations the target has visited recently. These significant data bits are displayed on a detailed map. Now, you can see all the stops your child makes on their way to school and know if there's anything sinister happening.
Using the "Geofencing Alerts" feature on eyeZy, setting danger zones across a map is possible. Once a target arrives at any of these preset destinations, you'll get an instant prompt on your eyeZy Control Panel.
The eyeZy application goes further to give you in-depth data on the Wi-Fi networks the target has connected to recently. So, is your spouse connecting to the Wi-Fi of a hotel they shouldn't be at? eyeZy gives you context.
Although eyeZy may seem perfect all around, there's a chance that you might face some issues. To curb these clogs in record time, this iPhone GPS tracker has 24/7 support available. There's also a detailed FAQs section that answers common site-related queries.
Using eyeZy to track an iPhone is hassle-free. You can hit the ground running in under 5 minutes. The add-on that ensures ease in this procedure? eyeZy's Friendly Installer!
From start to finish, this iPhone tracking app has got your back.
Pricing
Understanding how to check someone's location on an iPhone via the eyeZy application won't see you asking for a portion of your inheritance.
This tracking service has these cost-effective plans:
1 Month: $47.99
3 Months: $27.99 per month
12 Months: $9.99 per month
NOTE: These plans are discounted for new customers. Note that you'll pay the real value for these packages upon renewal.
Pros
24/7 customer support
Compatible with most iPhones
Has Demo Mode available
Bank-grade encryption to ensure your financial and personal information
Inexpensive subscriptions
14-day money-back guarantee
Cons
No Free Trial
You can't subscribe to track multiple iPhones simultaneously
#3 mSpy: Track Someone By Their Phone Number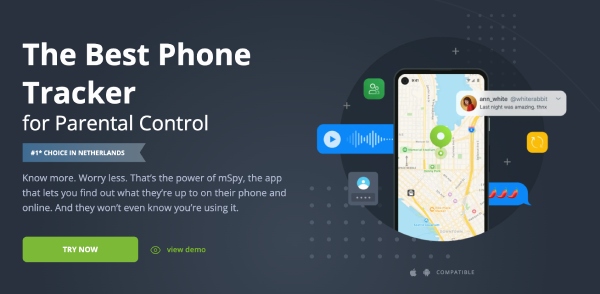 If you'd like to track an iPhone's GPS location data with relative ease, mSpy's the perfect fit for your goals. With 36+ functions in its portfolio, the mSpy app has made a mark in the hearts of 1.5 million clients worldwide.
To ensure your family's safety 24/7, the mSpy app has a top-tier GPS tracker available. This feature gives you unfiltered access to a target's accurate GPS location.
When we talk about "accurate," what do we mean?
mSpy gives you a detailed rundown of the locations the target has visited recently. With mSpy, you can see the date that the tracked user visited the place, alongside a longitude and latitude description of each location. Talk about an app that denotes revolution at every turn!
Are you scared of data breaches on your mSpy profile? Don't be. mSpy has this aspect sorted with bank-grade encryption. Now, you can trawl GPS data knowing that they're only accessible by you. How cool is that!
Does mSpy grant you stealth? The answer is yes! After you've installed the mSpy app onto the target's iPhone, the service's thumbnail will disappear and collate GPS data in the background. Since mSpy doesn't consume data and battery, the target will never know that you're spying on their GPS location in real time.
Installing mSpy on an iPhone is easy as the application has different iOS installation methods – non-jailbroken and jailbroken. Just choose the alternative that fits your tracking endeavors and get started. It's that simple!
Pricing
mSpy's services rank among the finest in the iPhone tracking sector. To use this service, select any of these subscription plans:
1 Month: $48.99
3 Months: $27.99 per month
12 Months: $11.66 per month
Pros
Round-the-clock customer support
Great Refund Policy
Works on jailbroken and non-jailbroken iPhones
Clutter-free user interface
Budget-friendly subscription plans
Comprehensive GPS location tracker
Top-notch encryption to prevent data breaches
Cons
It doesn't update your dashboard in real-time
NOTE: If you'd rather use the non-jailbroken route for mSpy installation, note that besides having the target's iCloud credentials at your disposal, ensure that 2FA is disabled. If enabled, remote monitoring is impossible.
#4 Glympse: Track Someone's iPhone
Do you crave an iPhone tracking app that allows you to accurately track the GPS location of someone without spending a dime? You might want to consider Glympse – an iPhone GPS tracking service that delivers stellar results for free!
Glympse's "primary goal" is safeguarding you and your loved ones. For perspective, you can easily share your GPS location with your friends and family.
Now, the individuals who matter to you can certify that you're safe while you're running, cycling, or driving.
What's more? You don't have to sign up. You'll get all iPhone tracking functionalities as a guest. Talk about convenience.
Glympse lets you see the real-time GPS location data of multiple persons. So, let's say you're heading out for an event with friends, and you'd like to know everyone's ETA (Expected Time of Arrival). In that case, using the Glympse application will definitely work the trick, as it'll update you on when they're bound to arrive.
Roles can be reversed too!
Reputation-wise, Glympse ranks high. For context, this service is no stranger to industry awards.
Notable mentions include:
2014 Webby Award
Glympse: The Coolest Thing Your Smartphone Can Do – Fast Company
Ranked as one of the "15 Best Mobile Apps of 2011" – Marshable
Glympse also ensures that your location data is safe at all times – an add-on that has seen it rank high on the App Store.
Pricing
Glympse is free. All you need to get the ball rolling is to install the application onto your iPhone and add the contacts you wish to track in real time.
Pros
It's 100% free
You can share your location with multiple people
It works on most iPhones
Safeguards user location data 24/7
No sign-up needed
Cons
Compatibility issues on older iPhones
It doesn't offer 100% stealth as the target knows you're monitoring their GPS location
#5 Life360: Check Someone's Location
Life360 is a tracking service that safeguards families with a top-notch location-sharing feature.
To set the ball rolling with Life360, all you need to do is download the dedicated app from the App Store, install it on your device, and create a "Family Circle" that aids in seeing the whereabouts of a desired target 24/7.
Life360 lets you place alerts. Thus, if the target visits a sinister spot you disapprove of, you'll get a prompt.
It gets better: Tapping on the picture of a "Family Circle" member will direct you to their current location. Additionally, you can use the Life360 app to see what your "chauffeur" does behind the wheel.
Pricing
You can use Life360 for free to access regular tracking functions. However, if you crave something advanced, we advise keying into the "Premium" package for $4.99 per month.
For context, here's what you get once you go premium:
Location sharing
Unlimited place alerts
Location ETA
Family driving reports
Help alerts
30 days of location history
Battery monitoring
Priority customer support
Pros
The free plan offers decent GPS tracking add-ons
Available on the App Store
You can check the driving habits of a chauffeur or regular family members
Compatible with most iPhones
Safe and secure
Cons
It doesn't offer any other feature besides location tracking
Read Also: How to Find Someone's Location Using Their Cell Phone Number?
Conclusion
With the best iPhone tracking app, you can access the GPS location of a target without doing anything extra.
In this guide, we've given a detailed overview of the top 5 iPhone tracking in 2022. Although North App tops the list, you can rely on the remainder for the precise GPS location data of anyone from your home's comfort.
We advise testing the waters on alternatives that offer a free trial (or live demo) and sifting out the option that suits your tracking needs to the "T."