You've searched for the right lady for years. Just before giving up, you found a girl that tallies your preferences to the "T." Now, you decide to make it official, and on that "coffee shop" date, you pop the big question – will you be my girlfriend?
Her reply? A resounding "yes." At that point, you're probably the happiest man alive.
However, with a recent report indicating that 10 to 70% of women cheat on their partners, you may want to pay extra attention to your GF's whereabouts daily.
Since you don't want the "stalker" title by snooping on her cell phone or following her around, what alternative can you employ to get a hold of her whereabouts 24/7 without getting spotted?
Although many DIY methods abound, your best bet is tracking apps available on iOS and Android devices.
As their name suggests, tracking apps will get you an overview of your GF's location without her knowing.
Besides location tracking, you can also use these apps to see her texts, call logs, and social media chats.
With numerous options available on the web, making a pick might seem difficult as there are several fraudulent options in the mix. Thus, we've done our research to sieve out the top 6 alternatives.
Ready to track your girlfriend's locations using the best location tracking apps? Let's dive in!
Read Also: How to Track Your Boyfriend Without Him Knowing for Free?
#1 North App: Track My Girlfriend's Location for Free
Do you seek an easy option to know how to track your GF's phones? Consider the North App. This cell phone tracker has earned praise from millions as it gives you unlimited access to someone's GPS location with their mobile number.
Unlike most spy applications, North App operates in full Stealth Mode. This add-on in the mix means you'll be able to monitor your girlfriend's location without her knowing you're the one "pulling the strings."
North App tows the "no-installation" route. Using North App, you don't have to install any unique software onto your girlfriend's device. All that's required for tracking is her phone number and a steady Internet connection.
What's better? North App works on all Android and iOS devices. This service will also work on any phone number worldwide, regardless of the network carrier. With North App, compatibility issues are thrown out the window!
Are you bothered about accuracy? North App adopts the latest map technology to ensure that the GPS coordinates of your GF are correct to the "T."
With numerous positive reviews from past clients to boot, North App is a mobile phone tracker that attains the "excellence" benchmark.
Pricing
If you'd like to employ North App to aid in spying on your GF's device, here are available plans to key into:
24-hour Trial Plan: $0.89
1 Month: $49.80 per month
NOTE: Only new clients can access North App's 1-day trial plan. Upon expiry, users are automatically charged for the 1-month package.
Pros
It doesn't require physical installation
Works in Stealth Mode
24-hour Trial Plan available
Compatible with all Android and iOS devices
Uses the latest map technology to aid precision
Seamless installation procedure
Positive customer reviews
Cons
It offers just GPS tracking
You won't have access to the target's location if they don't open the text message
#2 mSpy: Best Location Tracking App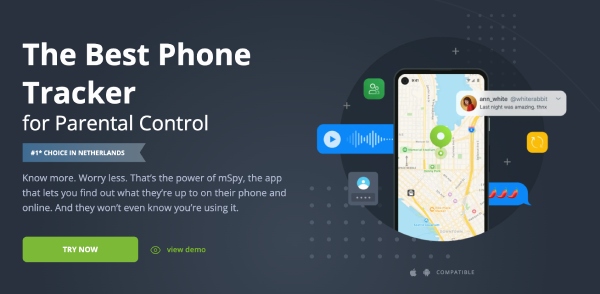 Looking to find your girlfriend's location without issues? We recommend the mSpy app. mSpy has made a print in the phone monitoring sector since its 2010 creation. With over 30 top-tier functions, mSpy also shines in the GPS tracking segment.
Using mSpy's GPS tracker add-on, you can view your girlfriend's real-time location on an "easy to read" map. mSpy also goes the extra mile to give you coordinates of your GF's current whereabouts.
Although mSpy gives you access to your GF's present location, what happens if you'd like to know where your girlfriend visited in the last week? This tracking app has got you covered!
mSpy will give you the detailed route history of your GF in the past week or month in a single tap. Now, you can know if she's heading to sinister spots to cheat.
Once you've gotten a hold of the places your girlfriend frequents, you can place "Geofencing Alerts" on any of these areas. Therefore, mSpy will notify you once she enters that preset location.
If she's truly cheating, you can catch her "red-handed" by adopting this nifty feature.
What happens if you encounter issues when using the mSpy app? The service has you sorted with 24/7 support across email and live chat. There's also a FAQ segment that'll answer typical site-related questions.
To safeguard the personal and financial data of clients, mSpy has rock-solid encryption in place. Thus, worries about safety are non-existent.
Pricing
You can enjoy mSpy's premium tracking functionalities by subscribing to these budget-friendly packages:
1 Month: $48.99
3 Months: $27.99 per month
12 Months: $11.66 per month
Pros
Straightforward installation procedure
24/7 customer support
Bank-grade encryption technology
Navigable and intuitive user interface
Decent Refund Policy
Provides a detailed route history of the target
Demo mode availability
Inexpensive subscriptions
Cons
No Free Trial
Dashboard doesn't sync in real-time
#3 eyeZy: Track Your Girlfriend in 2 Clicks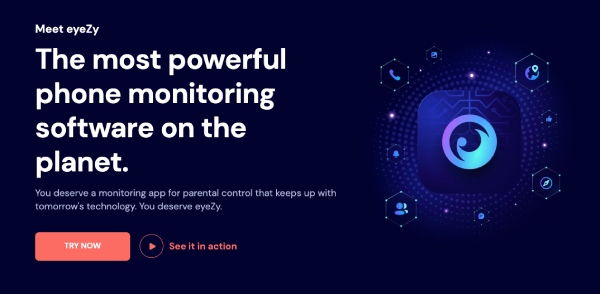 Simplicity and sophistication converge at eyeZy as the service is committed to helping you know how to track a girlfriend's phone with relative ease. Tagged the most powerful phone monitoring software on the planet, you can trust eyeZy to get the job done 24/7 with futuristic add-ons in the mix.
Using eyeZy's Pinpoint, you can see your GF's location at any point of the day. So, if she told you that she was going out with the girls and you're suspicious, you'll get some vital context and see if she's lying or not through this top-notch functionality.
You'll come off as a "weirdo" if you follow your girlfriend everywhere she goes. Thankfully, eyeZy has thought of this and integrated a "Geofence" so you can keep tabs on her all day long.
eyeZy's Social Spotlight gives you unrestricted access to your girlfriend's social media chats. Thus, you'll have an overview of her conversations and see if there's any need for concern.
Getting started with eyeZy is easy, and you don't need any tech-savviness to install the app on your GF's cell phone. Whether she has an Android or iOS device, you can use eyeZy's Friendly Installer to get the service up and running on her smartphone within 5 minutes.
The eyeZy app also has a Compatibility Checker. With this nifty add-on, you can input your girlfriend's device's model and see if it tallies eyeZy's requirements.
Pricing
To find your girlfriend's location via eyeZy, subscribe to any of these inexpensive packages:
1 Month: $47.99
3 Months: $27.99 per month
12 Months: $9.99 per month
Pros
Distinct Compatibility Checker section
Friendly Installer available to aid installation
Precise GPS tracking functionality
Detailed FAQs segment
Works in Stealth Mode
Easy to use user interface
Cons
No subscription permits multiple device tracking
Service doesn't have a Free Trial
#4 TheSpyBubble: Find Girlfriend's Location
Do you want to see how you can track your girlfriend's phone location within 5 minutes? TheSpyBubble might be the phone tracker that tallies your precise needs.
To get the ball rolling with TheSpyBubble, executing a root or jailbreak on the target device isn't required. The application also runs in 100% Stealth Mode. Thus, your GF remains "none the wiser" of your tracking acts until you spill the beans (that's if you ever will).
Tagged the "jack of all spying trades," TheSpyBubble is an offering with state-of-the-art functions in its arsenal. However, one of the most notable is its "GPS tracker."
Using this add-on, you can see your girlfriend's current location from your home's comfort. TheSpyBubble also ensures that accuracy is assured by integrating the top GPS technologies in the market.
This service takes the revolutionary path by giving you access to your GF's location data even if her device's GPS functionality isn't active.
TheSpyBubble's customer support team delivers swift responses and will issue solutions if you encounter any clogs during site use. There's also a unique online help service available for initial installation.
A phone tracking app with its bases covered? TheSpyBubble ticks this box and more!
Pricing
Hop on TheSpyBubble's train and view your girlfriend's location 24/7 with any of these packages:
1 Month: $48.99
3 Months: $27.99 per month
12 Months: $11.66 per month
Pros
Over 25 functionalities available
Free online help with installation
Round-the-clock helpdesk available
Discounted subscription plans
Offer precise GPS coordinates
Works on iOS, and Android devices
Cons
Doesn't offer a Free Trial
Advanced features require rooting or jailbreaking
#5 MobiPast: Track GF's Phone
Have you been searching the typical "how to track your girlfriend's phone location for free" query on Google? If yes, consider MobiPast to precisely monitor your GF's whereabouts.
You won't compromise your privacy with MobiPast. The service is stealthy, and upon installation, it'll commence data trawling in the background, getting you updated about your girlfriend's every move.
MobiPast's GPS tracker gives you updates each time a target enters an unauthorized area. This top cell phone tracker makes these bits of data available on a detailed map, comprehendible by anyone.
If you're looking to see how to get all information about your girlfriend's cell phone, MobiPast is the ideal fit.
This application has a keylogger that gives you access to keystrokes made on your GF's device 24/7. You can also use MobiPast to spy on her call logs and texts.
If you're on the lookout for 100% cell phone tracking, make MobiPast your go-to alternative.
Pricing
MobiPast has these affordable plans in the mix:
1 Month: $48.99
3 Months: $27.99 per month
12 Months: $11.66 per month
Pros
Simple installation process
Over 25 tracking functionalities
Works on Android and iOS devices
It has a top-tier keylogger in the mix
The app goes incognito upon installation
Cons
It doesn't offer a free trial
Root and jailbreaking required to access some advanced features
#6 XNSPY: Where Is My Girlfriend?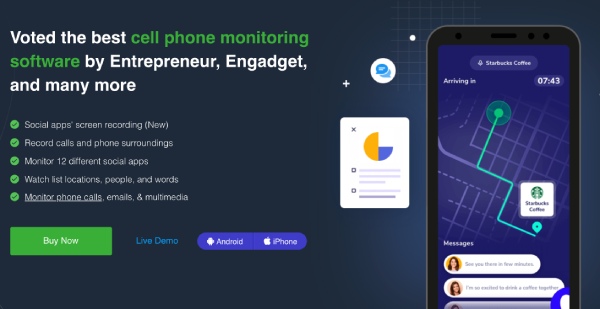 XNSPY is a high-quality phone tracking app that'll give you access to your girlfriend's real-time whereabouts in no time at all. With over 20 features in the mix, XNSPY steps up the anté with its unique GPS locator add-on.
Unlike other phone trackers, XNSPY is descriptive as it gives you access to every move the target makes. So, if your girlfriend stopped at a hotel before heading over to work, you'll get context on your XNSPY dashboard.
XNSPY also integrates geofencing. This add-on allows you to set alerts on specific locations across the map. If your GF visits any of these spots, you'll get an instant alert. How convenient!
If you need help while using this tracking app, there's 24/7 support available. Using the live chat, you can get detailed solutions within a minute or two. The FAQs or "Knowledge Base" section is available for you to get an insight into common questions on the platform.
Pricing
To see your GF's whereabouts all day long via XNSPY, choose any of these subscription plans:
Monthly: $44.99
Quarterly: $24.99 per month
Yearly: $9.99 per month
Pros
Responsive customer support
Budget-friendly subscription plans
Extensive "Knowledge Base" area
GPS tracking doesn't require rooting or jailbreaking
Has a Live Demo
Cons
There's no free plan
It can't work on other operating systems besides Android and iOS
Read Also: How to Track My Husband's Android Phone for Free Without Batting an Eye?
How to Track My Girlfriend's Phone Location?
Knowing how to track your girlfriend's device is simple via North App. To get started, follow these steps:
Step 1. Insert Phone Number
Input your girlfriend's cell phone number into the space provided on the site.
Step 2. Create a Text
The next thing you'd need to do is create a catchy text message. After you've formed one, click on "Send."
Step 3. Locate
Once the recipient opens your message, North App will send their GPS coordinates across to you. It's that easy!
NOTE: Phone trackers aren't permitted in all countries. Thus, you must take a look at the caveats surrounding their usage in your jurisdiction. If you find the legalities a tad unclear, contact a technology lawyer for context.
Conclusion
Although numerous apps claim to provide stellar phone tracking services, only a few live up to expectations. In this article, we've reviewed the best 6 phone trackers to monitor your girlfriend's GPS location and other data bits on her device.
Our ranking saw North App rank #1 for precise location results. However, the other applications on our list are worth a trial. Since most options have a "free demo" in the mix, you can try them and choose what tallies your needs the most.